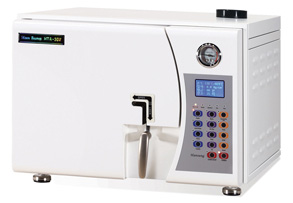 B type small size auto clave

HTA-30V

Front vacuum & Rear vacuum system
This product s an 'medical instrument." Use the product after reading the 'Cautions" and "How to use" fully.
The returning and refund are not available after purchasing the product. However, the changing and refund are available within 7days after purchasing when it is not opened.

Model
HTA-30V
Dimension
600mm(W) x 670mm(L) x 430mm(H)
Chamber
Dimension
∮300 x 430(L)mm
Capacity
30L
Shape
Circular type
Material
Stainless steel
Water container
275mm(W) x 135mm(L) x 180mm(H)
Power
AC200v, 50/60Hz
Power consumption
3000W
Sterilizing temperature and pressure
121℃(1.0㎏/㎠)~135℃(2.2㎏/㎠)
Drying type
External heater + Vacuum pump
Vacuum pump
Oil-less Vacuum Pump (40L/min)
Control type
Microprocessor
Display type
Blue Graphic LCD
Printer(Option Accessory)
1. Direct thermal line printer, printer roll : 57mm×∮30
2. Bluetooth Communication
Table for sterilizer (Option)
670mm(W) x 670mm(L) x 870mm(H)
Weight
70kg
※
Advertisement evaluation number :
2012-110-25-2325 B type small size auto clave(HTA-30V/HTA-50V)